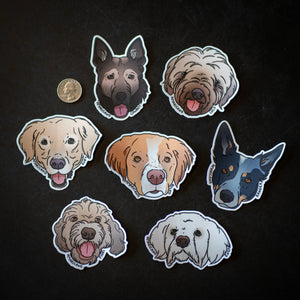 If you're a fan of truffles and dogs, we've got something special for you. We are excited to unveil a charming set of stickers, each one representing our lovable truffle dogs who play a key role in our operations. Meet the hard-working canines - Gator, Ranger, Enzo, Fiori, Lolo, Ruby, and Cowboy!
These incredible dogs have a significant contribution to every bottle of Amaricano that departs from our distillery. Here's an intriguing fact: each truffle that infuses our Amaricano has been discovered by one of these diligent dogs in the Pacific Northwest.
What makes this process truly extraordinary is our commitment to sustainable foraging. We ensure that our practices respect and protect the ecological balance of the region. Our dogs are trained to forage responsibly, making sure we maintain the sustainability of these valuable and delectable fungi. Enjoy the taste of our Amaricano, knowing it's a product of love, respect, and mindful foraging.