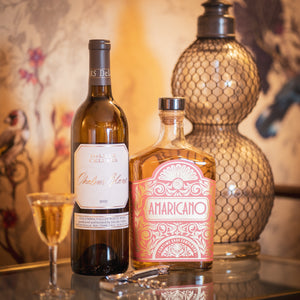 LIMITED AVAILABILITY
This DISTILLERY-EXCLUSIVE RELEASE is the second collaboration with our friends at DeLille Cellars in Woodinville, Washington. Amaricano Bianca Centime Cask Companion was rested for four months in DeLille Cellars Sauvignon Blanc and Riesling barrels at the distillery in the shipyard. The cool weather kept the angels' share at bay, but the barrel still imparted spicy notes, unlike our classic Amaricano Bianca. Exceptional to sip neat, especially after dinner as an aperitif or a digestif, this special cask release carries notes of Szechuan pepper, raspberry, and dusty sage and green herbs.
3% of bottle revenue is committed to support women in business, our communities, and industry through our Pretty Penny program.
Applicable WA state spirits taxes will be added at checkout.
Ships to select states (see below) or available for pick up at the distillery.
FREE shipping on purchases of 2 or more bottles.